Rusty Kennedy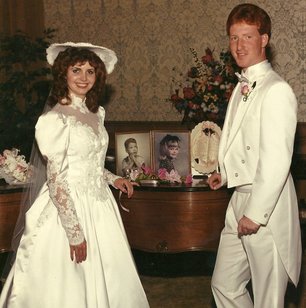 Last night, Michelle and I celebrated 25 years of marriage... Yes... 25 years together... the two of us. We started talking about the most memorable anniversary celebrations. They were #10, #13, #20 and of course #25 is still be created...

#25 - We had a little party in February to start the year and celebrating the year... Our waiter even sang "The Love Boat" theme song to us! Then we went to St. Elmo's Steak House last night and everyone knew it was our anniversary. We have lived here in Indy for 22 years and had never eaten there before... check! Then we went to see "The Beaver" at the Indie Theater... come on... it's the Jodie Foster/Mel Gibson movie. I of course... way over processed the movie. Then we will wrap up our 25 year celebration with a Disney Cruise in October with our friends. So far we have recruited the Hilfikers, Tyners and Wards to go with us! Want to go too?

#10 - Michelle got some bed & breakfast place in Cincinnati that was off the beaten path but along the river. She took me to dinner on the river and to a Red's game. It was our first B&B so that was a little strange... but still made the list! I am pretty sure fireworks were involved too!

#20 - We stayed at Dan & Diane Horner's Lake House on Lake Shafer (north of Monticello, IN) for a few days. We actually drove to Chicago the first night and we went to a Cub's game at Wrigley field. My Uncle Kerry and Aunt Lou got us great seats on the 3rd base side. The second night, John-Mark & Angie Waters came up and hung out with us and we grilled out as we played on the water all day. The last night/day, our kids came up with the Tyner family and played on the lake all day.

#13 - This would have been 1999... just a year before "I Can Only Imagine" hit the airwaves... But the boys from MercyMe were here for Race Day and the Billy Graham Crusade. I was in charge of security on floor and all the follow up materials after the services so I recruited the fiercest team I could think of. But these events coincided with our 13th anniversary. So Michelle and I went to Tony Roma's for dinner and I had planned for the guys to come sing for us at dinner. So much to our surprise... during our dinner, each of the wait staff was bringing a single rose to our table and placing them in a vase. Mike Scheuchzer brought rose #11 to the table, Bart Millard brought #12 and Jim Bryson brought rose #13 in his mouth and carrying his accordion. They then proceeded to sing, "You are My Sunshine" and another song. After "our moment" they got offers from other tables for birthday songs and such... They were making $$$. Of course, at that time, they were playing for Taco Bell. Great memories!

We realize the best celebrations were with our friends... it is all about community. We are so thankful!