Rusty Kennedy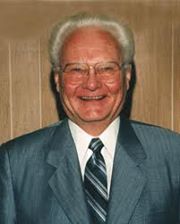 Dr. Warren C. Hultgren was my very first pastor... he set the standard. He was the Senior Pastor of First Baptist Church, Tulsa, OK where I attended all the way through high school (and the summers of my college years). My memories are few and shallow...

1) As a child I came to worship and just like most other kids... slept on my Mother's lap. I think my mom appreciated that better than having to keep me quiet for 45 mins. Dr. Hultgren's messages were very deep and definitely adult focused. He received a great amount of public respect for his messages. At some point I woke up and began to hear the Truth he spoke.

2) Dr. Hultgren was golfing buddies with my Grandpa, Brownie Brunkow.

3) Dr. Hultgren and his wife Wanda would come over to my grandparents house quite often and he and I would go in the back room and play pool on the snooker table. I know they always talked about me beating him but who knows if I did or he just let me. Grandpa's pool table was like today's PS3 for my son. I spent many hours on that thing. I sure thought I beat him every time.

4) At eight years old, I walked down the aisle of the church (right behind my sister, Heidi) and asked Jesus to be my Redeemer. Dr. Hultgren led us in a prayer. This was during a Stalnaker (sp?) Crusade. I think it was Youth Hot Dog night... crazy what the brain recalls from childhood years!

5) But my best recollection was in January 1989. I was living in Dallas and just completed my seminary degree. I was ready to serve in a church. I had two churches that were pursuing me. Circle Drive Baptist Church in Colorado Springs and Northside Baptist Church in Indianapolis. I was flying to both places within a weeks time with Michelle and trying to decide where the Lord wanted me to serve. The Spirit led me to call Dr. Hultgren and get his advice. This was rare. I didn't frequently talk to Dr. Hultgren. It took some nerve to call him. I think I was probably looking for some kudos and just letting him know that I finished seminary. Sure enough he picked up the line. I explained situation to him thoroughly. I got the kudos I was looking for... I got a little more Hultgren pontification... and he basically told me this concerning my dilemma: "Rusty, just go to both places and check everything out and make sure to enjoy yourself. After you have been to both places, surely the Lord will show you where you need to go. And if he doesn't... call me back... and I will flip a coin for you!"

Are you kidding me Dr. Hultgren? A flip of a coin? My phone call ended up a little bittersweet. I was so thankful to talk to him and receive the encouragement from a man that most people highly respected... But a flip of the coin was going to determine the next few years of my life? Seriously? Thanks a lot!

I went to both places... upon our return... it was very clear. We were to serve in Indianapolis. No flip of the coin necessary... thank you Lord.

But being here in Indy for the last 22 years I have come to understand that Dr. Hultgren was right on with the flip of the coin thing. After listening to me and my dilemma... he knew the Lord would show me what to do. And even if He didn't, Dr. Hultgren was assured (although he didn't say it) that I was walking by the Spirit. And if I was walking by the Spirit then either choice was going to be OK. One may have been better than the other... but then I would have the opportunity to learn more lessons and the Lord would continue to provide for me. God's will is more like a parking lot rather than a parking space. As long as I stayed in the parking lot... I was going to be OK.

I am thankful for Dr. Warren C. Hultgren. He served the Lord... he loved my family. I can't wait to hang out with him again!