Rusty Kennedy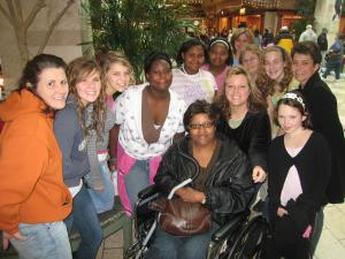 I think it was about a year ago that I was imagining what it would be like to be a part of group or ministry that didn't make much human sense. Today... I'm sitting on my couch (that was for you Terry) and wondering what in the world is happening. Allow me to describe what has occurred over the last two months.
A few weeks ago I asked the Leavener Community what they needed from this ministry. The general response was that they didn't need much at all. They wanted to be able to hang out together, process the message of grace together and help others who needed to experience freedom in Christ and freedom in other areas of their lives. That is a great description of the people who meet together on Sunday Mornings at the
Ward's House
.
I then asked one of my friends, who is a local nurse, if she knew of any families that had some unique situations that Leavener could come along side and minister to them. She sent me two families to follow up with. Please understand, I cannot even begin to explain the fullness of their situations in this brief blog.
The first family is a single mom (37 years young) and three daughters (12,13 & 14). Each of the three girls are treated for asthma at a local children's hospital. The mom has stage 4 bone cancer and has already survived longer than the doctors predicted. In the past week, I was able to sit down over breakfast with the mom and hear their complete story. This is a very humble family that was not seeking any help. On Saturday, several of the Leavener ladies and their daughters took this family shopping and made a list of all the things they needed. Next Friday Night (Dec 14th), we are hosting a Christmas Party at
Heartland Church
at 7:00 PM. We will celebrate the life of this family and encourage them through their family issues. Rick Stump will be leading us in singing some Christmas Carols as well. You won't want to miss this party!
The second family I just connected with this week. I talked to the wife who was taking her husband to the hospital for the 8th time this year. Last year they discovered that he had liver cancer. In May of this year, he had multiple organ transplant. Since then, he's had 4 additional surgeries due to complications. It has been a rough year for the family. As I continued the conversation through tears, the wife told me that their 15 year old son has had an inoperable brain tumor for four years. The growth has currently stopped. I cannot even begin to describe the emotions that were exchanged during our phone conversation. When asked how we could help, the wife informed me they had family pictures taken over a year ago and they have never been ordered or purchased. Leavener is trying to work with photographer to get these pictures to the family. Please pray the photographer will release the digital rights to these pictures so the family can have these valuable images in plenty. This would be a request beyond the normal practice of this photographer. Leavener has currently placed an order to receive a minimal order of these pictures.
I sit here amazed at the ministry opportunities that God has brought our way. I cannot answer in human understanding how all this will be accomplished. I just trust the Lord will provide as He leads us to each opportunity.
Simply Amazed...
Rusty